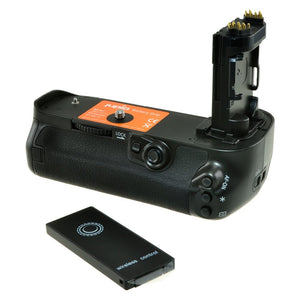 Jupio Battery Grip for Canon 5D MKIV (BG-E20)
Jupio Battery Grip for Canon 5D MKIV (BG-E20)
The Jupio Battery Grip for Canon 5D MKIV (BG-E20) is the top grip accessory you need to enhance your photography experience. Designed specifically for the Canon 5D MKIV, this battery grip provides the perfect balance between functionality and style.
With the Jupio Battery Grip, you can easily power your camera using either 2x LP-E6 or 2x LP-E6N batteries. This ensures that you will never run out of power during your photo shoots. Plus, the grip comes with a convenient 2.4 Ghz Wireless Remote control, allowing you to control your camera effortlessly from a distance.
This battery grip comes loaded with impressive features. It includes a Shutter release button, Main command dial, Joystick, On-off button, AF-On and point selection button, AE lock button, and a Multi-function button. These features give you complete control over your camera settings and make capturing the perfect shot a breeze.
Not only is the Jupio Battery Grip packed with features, but it also matches the original version (BG-E20) in both functionalities and aesthetics. Built with high-quality materials, this grip is a perfect replica of the original. From the location of the controls to the perfectly matched colors and patterns, the Jupio Battery Grip is indistinguishable from the original.
At Jupio, we stand behind the quality of our products. That's why we offer an unconditional 3-year warranty on this battery grip. You can trust that it will perform reliably and provide you with the power you need for years to come.
Product Specifications:
Battery Included: No
Weight: 0.66lb / 0.3kg
Warranty: 3 Years
The Jupio Battery Grip for Canon 5D MKIV (BG-E20) is the ultimate accessory for professional photographers. It provides extended battery life, superior control over your camera, and a sleek design that seamlessly integrates with your Canon 5D MKIV. Capture stunning shots with ease and confidence while never worrying about running out of power during your shoots.