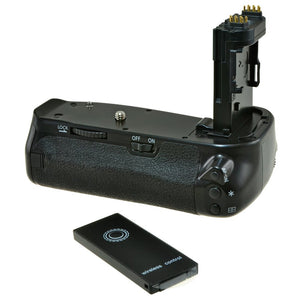 Jupio Battery Grip for Canon EOS 6D MKII (BG-E21) #JBG-C015
Jupio Battery Grip for Canon EOS 6D MKII (BG-E21) #JBG-C015
The Jupio Battery Grip for Canon EOS 6D MKII (BG-E21) #JBG-C015 is a must-have accessory for photographers looking to enhance their shooting experience. Designed specifically for the Canon EOS 6D MK II (BG-E21), this battery grip offers a range of features that make it a versatile addition to your camera setup.
One of the key benefits of the Jupio Battery Grip is its ability to use 2x LP-E6 or LP-E6N style batteries, providing you with additional capacity for extended shooting sessions. Whether you're capturing stunning landscapes or taking portraits, this grip adds to your ability to hold the camera, making it easier to achieve steady and precise shots.
Not only does the Jupio Battery Grip offer functionality, but it also matches the design and quality of the original manufacturer. From the location of the controls to the perfectly matched colors and patterns, this grip seamlessly integrates with your Canon EOS 6D MK II.
Featuring a shutter release button, main command dial, on/off button, AF point selection button, AF area selection button, AF-On button, and AE lock button, the Jupio Battery Grip provides you with convenient access to essential camera functions. Additionally, it comes with a wireless remote control for added convenience while shooting.
When you purchase the Jupio Battery Grip, you can rest assured with the included unconditional 3-year warranty. This warranty reflects Jupio's commitment to producing top-quality power-related products for cameras, camcorders, drones, and more.
Specifications
Battery Included: No
Weight: 0.67lb / 0.31kg
Warranty: 3 Years
Upgrade your photography capabilities with the Jupio Battery Grip for Canon EOS 6D MKII (BG-E21) #JBG-C015. Take advantage of its versatile features, comfortable grip, and compatibility with 2x LP-E6 or LP-E6N style batteries. Order yours today and elevate your photography to new heights.