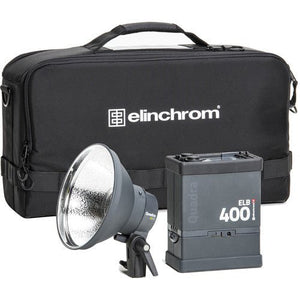 Elinchrom ELB 400 Hi-Sync To Go Kit (EL10418.1) - Demo
$1,05000

$1,050.00

Save $449.95
---
---
This Elinchrom ELB 400 Hi-Sync To Go Kit is the ultimate flash system studio for photographers who prioritize portable gear without compromising power. With a compact design, this flash system is lightweight and can be carried easily on your shoulder or belt, making it perfect for photographers on the go.
The wireless EL-Skyport system ensures seamless synchronization and control between your camera and the ELB 400, allowing you to capture stunning photographs effortlessly. The OLED display provides quick and easy access to all functions, giving you maximum control over your lighting setup.
One of the key features of this kit is the Quadra Hi-Sync head, a powerful and versatile miniaturized flash head that weighs only 0.28 kg (0.62 lbs.). Despite its small size, it delivers a punch, overpowering the sun and producing professional-quality lighting. The head also features a daylight-balanced LED modeling lamp that provides the equivalent of 50W of tungsten light output.
Whether you're shooting high shutter speeds or challenging lighting conditions, the ELB 400 Hi-Sync To Go Kit is ideal for achieving exceptional results. It is compatible with the optional new EL-Skyport transmitter Plus HS, allowing you to trigger and adjust flash power up to 200 m (656 feet) away.
Not only is this kit practical and powerful, but it also comes with a high-quality bag dedicated to location shoots. This bag is fully adaptable to your needs, protecting your equipment during travel and providing easy access to all your essentials.
Key features of the Elinchrom ELB 400 Hi-Sync To Go Kit include:
Powerful and portable flash system studio
Wireless EL-Skyport system for seamless synchronization
Invest in this professional-grade photography equipment and take your photography to new heights. With the Elinchrom ELB 400 Hi-Sync To Go Kit, you'll have the power and flexibility you need to create stunning images anywhere you go.
ELB 400 Quadra Pack Maximum Watt/Seconds:
424
ELB 400 Quadra Pack Guide Number:
With Quadra Pro head, 48° reflector, ISO 100 @ 1.0 m
100% Power: f/64.5
66% Power: f/45.8
33% Power: f/32.8
ELB 400 Quadra Pack Flash Variability:
6.9 Stops
Full to 1/32 power
Full, 1/2 and 1/10th stop increments
ELB 400 Quadra Pack Output:
Outlet A 100%: 21-424 Ws
Outlet A 66%: 14-289 Ws
Outlet B 33%: 7-140 Ws
ELB 400 Quadra Pack Recycle Time:
Fast 100% Outlet A: 0.3 - 1.6 sec., Outlet B: 0.17 - 0.7 sec.
ECO: Outlet A: 0.5 - 3.5 sec., Outlet B: 0.3 - 1.1 sec.
ELB 400 Quadra Pack Flash Duration:
Flash duration at t0.5, Quadra Pro/Action flash head:
Outlet A 100%: 1/1,200 sec. / 1/2,800 sec.
Outlet B 33%: 1/3,000 sec. / 1/5,700 sec.
Outlet A+B 100%: 1/1,500 sec. / 1/4,000 sec.
ELB 400 Quadra Pack Distribution:
Asymmetrical 2:1
ELB 400 Quadra Pack Colour Temperature:
At Max. Power with Quadra head: 5,500 K
ELB 400 Quadra Pack Auto Dump:
Yes
ELB 400 Quadra Pack Modeling Light:
On, off, programmable timer and continuous
ELB 400 Quadra Pack Triggering:
Sync cord 3.5 mm, optical slave, built-in Skyport receiver
Receiver range: up to 120 m outdoors, 40 m indoors
ELB 400 Quadra Pack Sync Voltage:
5 V
ELB 400 Quadra Pack Battery:
Lithium-ion 14.4 V, 4.1 Ah
ELB 400 Quadra Pack Battery Life:
At Max. Power ECO/Fast: 350
At Min. Power ECO/Fast: 6,000/5,500
ELB 400 Quadra Pack Charging:
Recharging Time: 90 minutes
ELB 400 Quadra Pack Flash Ready Indicator:
Audible beep, LED visual
ELB 400 Quadra Pack Voltage Stabilization:
Yes, +/- 0.5%
ELB 400 Quadra Pack Dimensions:
With Battery: 18.5 x 15 x 8.5 cm
ELB 400 Quadra Pack Weight:
Pack with Battery: 1.27 kg
Pack without Battery: 0.73 kg
EL 11001 Head Cable for Quadra:
2.5 m
ProTec Location Bag Material:
Nylon
ProTec Location Bag Type of Closure:
YKK zippered
ProTec Location Bag Exterior Dimensions:
60.5 x 21.7 x 31.4 cm
ProTec Location Bag Carrying / Transport Options:
Hand strap, adjustable shoulder strap
ProTec Location Bag Weight:
3.1 kg