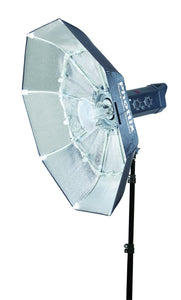 Phottix Luna Folding Beauty Dish (Silver, 33.5") | Demo
The Phottix Luna Folding Beauty Dish is a game-changer for photographers seeking convenience, versatility, and high-quality lighting. Designed for photographers on the go, this silver beauty dish is easily transportable without compromising its performance.
Constructed from high output silver softbox material and featuring non-reflective white fiberglass supports, this folding beauty dish provides exceptional light shaping capabilities. Its portable design allows it to fold down to a fraction of its open size, making it incredibly easy to carry and store.
Key features and benefits of the Phottix Luna Folding Beauty Dish:
Portable Design: This beauty dish's foldable design sets it apart from traditional rigid metal beauty dishes. With its compact size, it's the perfect lighting solution for photographers always on the move.
High-Quality Lighting: The silver softbox material ensures exceptional light output. It provides an even spread of light with controlled fall-off, resulting in stunning, professional-looking photographs.
The Phottix Luna Folding Beauty Dish includes a "shower cap" style front diffuser, allowing you to further control the light output. This diffuser softens the light and enables you to achieve a more subtle lighting effect if desired.
Compatibility is not an issue either, as this beauty dish comes with a widely compatible Bowens S-type speed ring. Additionally, speed rings for other major brands are available as optional accessories, ensuring seamless integration into any existing photography setup.
With the Phottix Luna Folding Beauty Dish, you can elevate the quality of your photographs and bring your creative vision to life in any studio or on-location shoot. It's a must-have addition to any photographer's lighting and studio equipment.
Product Type: Lighting & Studio, Reflectors & Accessories, Photography
Color: Silver
Size: 33.5"