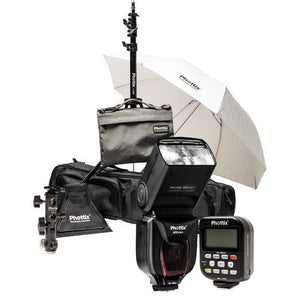 Phottix PH80378 Mitros+ & Odin Scott Kelby Kit for Nikon - Demo
Phottix PH80378 Mitros+ & Odin Scott Kelby Kit for Nikon
The Scott Kelby Mitros+ TTL Flash and Odin TCU TTL Flash Trigger Kit for Nikon from Phottixfeatures the Mitros+ TTL flash for Nikon, the Odin TCU TTL flash trigger, 10" flash softbox with strap, a 36" Double-Small white shoot-through umbrella, Varos II multi-function flash shoe umbrella holder, a 6.6 pound Stay-Put Sandbag II, a 28" gear bag, and a 6.5' 5-section compact light stand. This gives you a wide variety of tools and accessories for advanced off-camera flash photography.
The basis of this kit is the Mitros+ flash, which has a guide number of 190' at ISO 100 and 105mm and a built-in Odin transmitter/receiver. This works well with the Odin TCU flash trigger for remote flash control and firing. They work within 4 channels and 3 groups within a range of 328' with a 2.4 GHz frequency. These are specific to Nikon cameras with i-TTL.
The 10" softbox and strap lets you diffuse the light of your shoe-mount flash unit. It even has movable inner diffusers for more control and a top vent for bouncing light. There is also a Varos II Multi-Function umbrella holder for mounting a flash to a stand and utilizing the included 36" Double-Small folding white shoot-through umbrella. Additionally, there is a 5-section 6.5' light stand, a 28" gear bag, and a 6.6 pound Stay-Put II sandbag.
Radio transmission is compatible with Odin and Strato II wireless triggering systems up to 328' away
Wireless functionality via optical pulses in 4 channels and 3 groups with a range of up to 52.5' indoors
Ratio modes from 1:8 to 1:1 and 8:1 are available for firing multiple flash units
A modeling flash setting is available for previewing how your shot will turn out
High-speed synchronization allows you to fire using the fastest shutter speed available on your camera
A bounce card and wide-angle diffuser are built into the flash head for convenience
Stroboscopic mode fires a series of flashes at a frequency of 1-199 Hz for up to 100 flashes
Status LED lights will notify you when the flash is ready to fire
Overheating protection will slow the firing time to avoid damage from heat
AF-assist light for focusing in poor lighting conditions
Memory system for retaining your settings when the flash is powered off
3.5mm sync port for connecting this flash to a larger system
USB port for installing firmware updates.
Specifications
Mount

Shoe

Guide No.

190.29' (58 m) ISO100 at 105 mm position

Vari-Power

Manual: 1/1 - 1/128

Bounce Head

-7° to +90°

Swivel Head

360°

Coverage

14 mm - 105 mm (Full frame)

Zoom Head

Full frame: 24 mm - 105 mm

Off-Camera Terminal

3.5 mm

Recycle Time

Approximately 0.1 - 5 seconds

Flash-Ready Indicator

Yes

Compensation

-3 EV to +3 EV (in 1/3 EV steps)

Wireless Operation
Method: Optical pulse
Distance: Up to 52.5' / 16.00 m
Method: RF
Distance: Up to 328.08' / 100 m
Wireless Communication Channels

4 Channels

Wireless Groups

3 Groups

Power Source

4x AA Alkaline, Rechargeable NiMH Batteries

Dimensions (WxHxD)

8.0 x 3.1 x 2.3" / 20.3 x 7.9 x 5.8 cm

Weight
15.06 oz / 427 g (flash unit only)
Includes
Phottix Scott Kelby Mitros+ TTL Flash and Odin TCU TTL Flash Trigger Kit for Nikon
Phottix Mitros+ TTL Transceiver Flash for Nikon Cameras
Phottix Odin TCU TTL Flash Trigger Transmitter for Nikon
Softbox/Flash Strap Set
Varos II Multi-Function Shoe Umbrella Holder
6.6 lb Sandbag II S
36" Double-Small Folding Shoot-Through Umbrella
5-Section Compact Light Stand
28" Gear Bag
Limited 1-Year Warranty