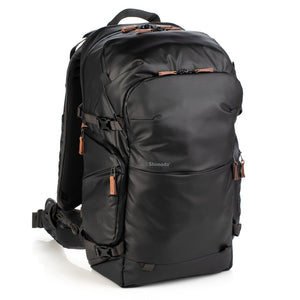 Shimoda Explore v2 35 Backpack - Black (520-158)
The Shimoda Explore v2 35 Backpack in Black is the ultimate companion for adventurers and photographers. Designed to meet carry-on regulations, this backpack combines functionality with style to ensure a seamless travel experience.
With its water-resistant construction and intelligent design, the Shimoda backpack is the perfect choice for any terrain. It can comfortably fit Mirrorless and DSLR cameras, including those with vertical grips. The pack is equipped with travel-friendly features like lockable zippers, a hidden passport pocket, and a luggage pass-through handle.
The Shimoda Explore v2 35 Backpack is built to withstand the demands of outdoor exploration. It features multiple access points, allowing quick and easy access to your gear. The adjustable torso height provides a custom fit for all users, making it suitable for both men and women.
One of the standout features of this backpack is the Core Unit Modular Camera Insert System. The shockproof Core Units provide the necessary protection for your camera and lenses, without adding unnecessary weight. You can easily customize the layout by stacking and shifting the Core Units to suit your needs.
***Core Unit sold separately
In addition, the Shimoda backpack offers convenient pockets for a water bottle or tripod, ensuring you have everything you need on your adventures.
Specifications:
Inside Dimensions (in): 11.2W x 20.8H x 7.4D in.
Laptop Compartment Dimensions (in): 10W x 15H x 0.8D in.
Product Weight: 2.0kg
Warranty: 5 Years
When it comes to caring for your Shimoda gear, regular maintenance is key. Clean it, re-apply water repellents, and take good care of it to ensure its longevity. With the Shimoda Explore v2 35 Backpack, you can embark on your adventures with confidence and peace of mind.
Includes
Shimoda Designs Explore v2 35 Photo Backpack (Black)

Rain Fly

Limited 5-Year Manufacturer Warranty